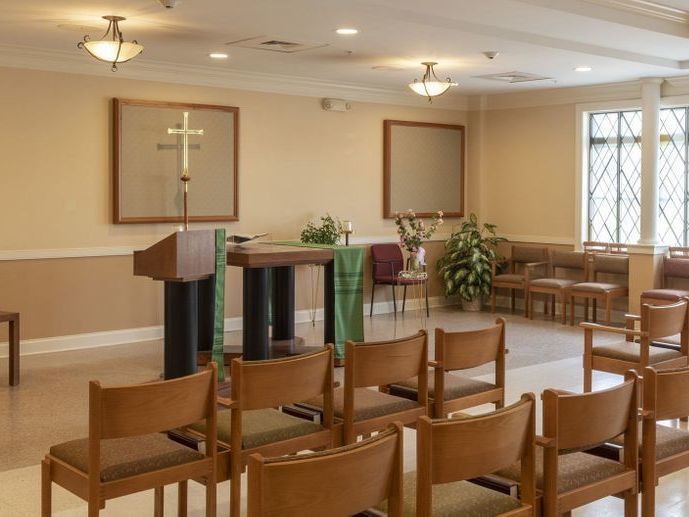 Reverend Singh is Director of Pastoral Care at Coburg Village. Prior to coming to Coburg Village, he served as vicar at Trinity Lutheran Church in Schenectady under the mentorship of the late Reverend Arthur Downing. In addition to his duties at Coburg Village, Reverend Singh is pastor of Trinity Lutheran Evangelical Church in Schenectady.
When we think about aging gracefully, many people will focus on things like staying physically fit, healthy diets, and good lifestyle choices.  But if that's all we're focused on, we might be missing the biggest piece to enjoying a full and vibrant senior life: spiritual wellness.
According to numerous studies by senior services groups, making spiritual wellness part of our daily lives as we grow older can have profound and far-reaching benefits.  Individuals who are involved in a regular spiritual activity in their lives:
·   Have fewer strokes and less hypertension. They even report less pain from illness!
·   Report a greater satisfaction with their family life.
·   Are less likely to suffer from depression and feelings of loneliness
·   Are more likely to be connected to others in a meaningful way which also reduces stress.
·   Have a greater sense of purpose and meaning as they grow older
It might sound too good to be true, but think about it for a moment. If you know that you are connected to something bigger, something greater than yourself.  If you don't feel like you have to have all of the answers and that everything is on your shoulders.  If you are reminded daily of your unique place in the universe doesn't that give a sense of greater peace in the midst of all of life's changes, especially as we get older? 
Spiritual wellness is an integral part of aging gracefully. That's why we here at Coburg Village make it an integral part of our services for our residents. We have a pastor in Rev Mohan Patrick Singh and a Deacon in Deacon Glen Schermerhorn who are available to our residents throughout the week.  They connect with people, answering their questions, praying with them, and developing meaningful relationships with them.  But they do more than just serve our residents.  They serve the families as well, helping everyone through the transitions, challenges and joys that come as we age. 
At the heart of all of our spiritual care is worship.  Each week our chaplains offer a worship service for our residents.  It's a time to gather, connect with one another and give thanks for the blessings we see in our lives.  The service includes a devotional message that speaks to the unique stage of life of our residents, the hopes and dreams they have, as well as the challenges they face.  The time of worship also includes communion, a reminder that we are truly connected to something much greater than ourselves. Added to that is the monthly visits of other ministers and pastors from different denominations including a Rabbi who serves the Jewish community.
And here's the best part, these spiritual wellness opportunities are available to all of our residents, regardless of their own faith backgrounds.  We want each person to be able to grow and benefit from spiritual wellness in their life.