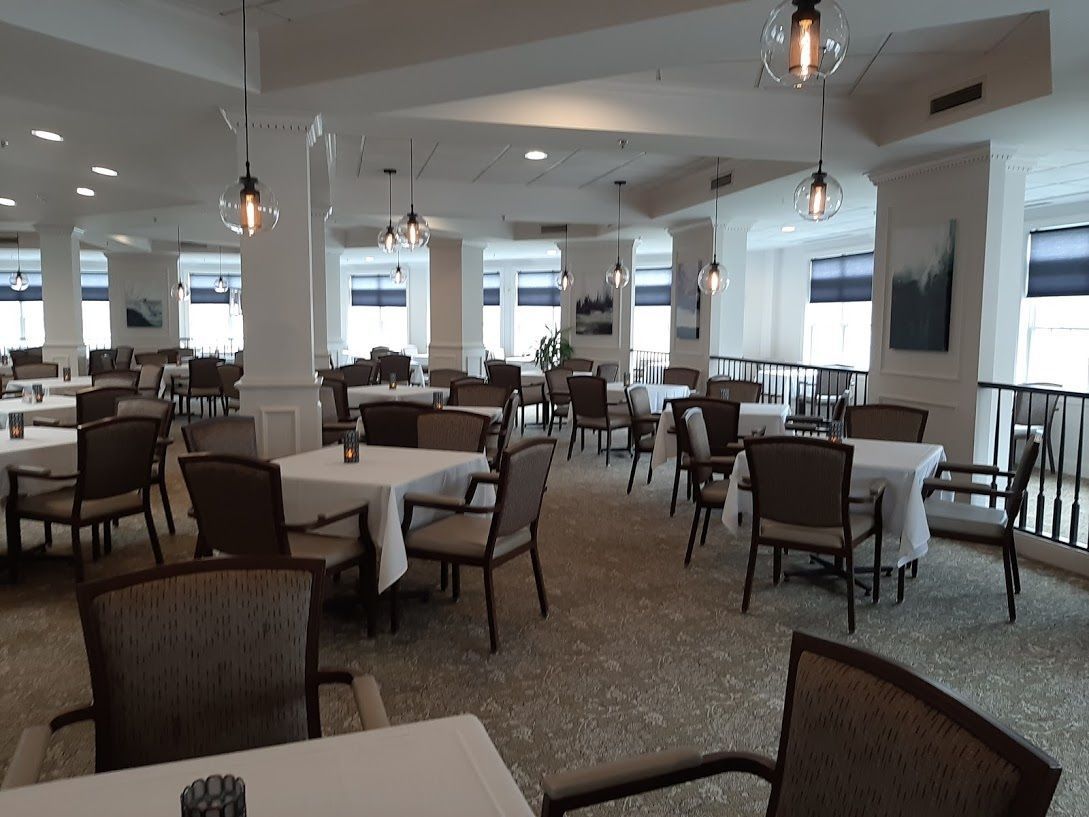 We are finally seeing light at the end of the tunnel as restrictions due to COVID-19 continue to be lifted across the state. One major milestone for our residents is the return of in person restaurant-style dining here at Coburg Village.  Our Dining Department has been working diligently to not only re-open our venues, but to make them even better than before! Our focus was to consider each of our three restaurants, what makes them unique, and embrace the spirit of each as we transition back to in-person dining.
In April, we reopened our Bistro Café for dine-in service and continued our takeout and tray delivery options. During the past few months we have also re-imagined and renovated our largest dining venue, formally known as The Main Dining Room. Our vision was to update the space, while maintaining its classic, comfortable feel.
Our next step was to give the newly renovated venue a name that fit its new contemporary décor.
Why the name 46 & Birch?
Capital Region natives have long embraced their connection to the Adirondacks. What better way to recognize that connection, than in the naming of our facilities.  Our Coburg Village cottages are built on streets named after lakes: Saratoga, Luzerne, and Seneca. The wings in our main building are also named for lakes: Fern, Saranac, Glen, Crystal, Placid, and Paradox.
"With this in mind, our dining staff set off to learn about the Adirondacks and find a name for the newly renovated dining area that represented our vision for the space. We researched the history, lakes, mountains, and regions. But nothing quite described our vision," explains Dining Services Director, Danielle Wager.
"Then I started reading about the Adirondack 46ers Club, a group of steadfast individuals who have made the climb up all 46 high peaks in the Adirondacks. So began the search to find the second half of the name to complement '46'.
After many meetings, our Dining Room Manager, Katie, suggested pairing the name '46'with a tree or an animal. That led us to Birch. Yes, Birch the majestic white and black tree which happens to share the prominent colors in our new space. In addition, the name 'Birch' already has ties to our Coburg Village community. The house on our campus, located on the corner of Grooms Road and Vischer Ferry Road was known as the Birch Tavern and has been there since the early 1800's. That's how we found the name 46 &Birch," says Danielle.