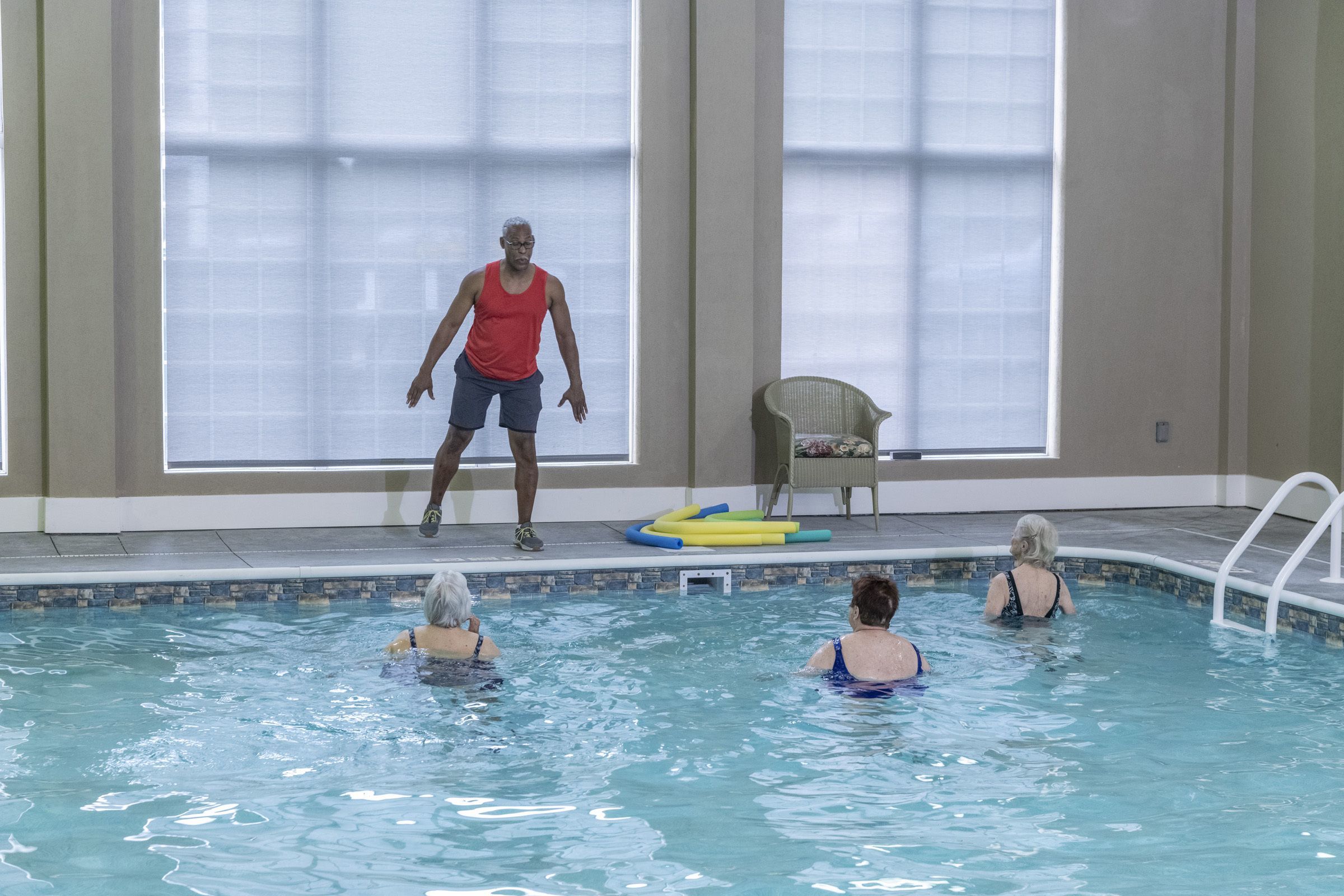 According to the Centers for Disease Control, swimming is an excellent way to get regular aerobic physical activity. Just two and a half hours per week of aerobic physical activity can reduce the risk of chronic illnesses. Best of all, swimming is fun! In fact, people report enjoying water exercise more than exercising on land. They can also exercise longer in water without increased effort or joint or muscle pain.
For older adults, water exercise can improve quality of life and decrease disability. It also improves or maintains the bone health of post-menopausal women.
For people with arthritis, swimming improves use of affected joints without worsening symptoms and can help decrease pain. If you have fibromyalgia, swimming can decrease anxiety, and exercise therapy in warm water can decrease depression and elevate your mood.
At Coburg Village our residents can enjoy the many wellness benefits associated with water exercise in our sparkling, heated saltwater pool and whirlpool spa. Our pool is four feet deep across, so residents can swim or walk laps across its entire length. Our residents rave about our energizing water aerobics class which meets in our pool twice a week. It is sure to get you moving and is a terrific way to meet new friends.
Swimming in a saltwater pool as opposed to a chlorine pool has additional benefits; The saltwater is gentler on your eyes and causes less irritation. This is because the concentration of salt in the pool closely mimics that of human tears. Swimming in saltwater also more effectively promotes the body's natural relaxation process. The soft soothing saltwater is also gentler on the lungs and is better for people with asthma or other lung-related issues than a chlorinated pool.
Finally, while chemicals used in a chlorine pool tend to leave your skin feeling dry and itchy after you get out of the water, saltwater soothes and softens your skin while acting as a natural exfoliator. It may even have therapeutic effects for people with eczema, psoriasis, acne, and other skin conditions.
Coburg Village offers a full calendar of social, educational, and physical wellness programs. We would love to show you our beautiful community, including our saltwater pool and fitness area. We invite you to schedule a tour online or by calling 518.371.5000.