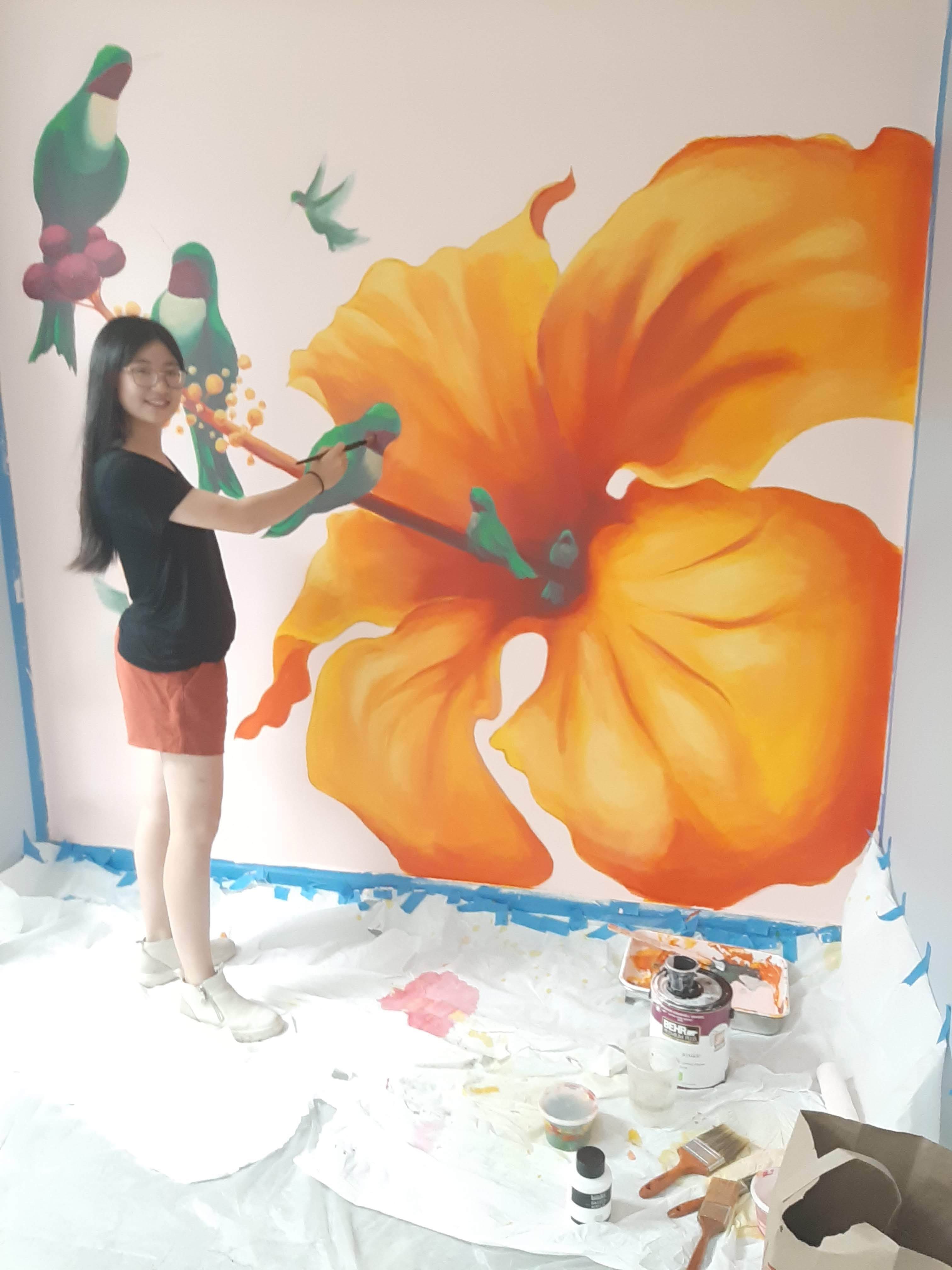 If you haven't visited Coburg Village's Fitness Center, we encourage you to stop in and see the color-popping mural created by Shenendehowa High School Junior, Casey Gao. It's certain to make you smile.
Casey's affinity for drawing started at an early age. She was obsessed with Winnie the Pooh and started copying images from A. A. Milne's classic children's books. Her love for painting and design continued to blossom. Her education at Shenendehowa allowed Casey's talents to flourish, offering strong programs taught by teachers skilled in visual arts. Today, Casey's focus is on painting with an emphasis on creating characters. She won numerous awards for her work and is published in Celebrating Art Magazine, Spring 2022. Casey's creative leaning isn't confined to painting. She plays the Cello in the Empire State Youth Orchestra and dances ballet in Saratoga Springs.
Casey was born in Poughkeepsie and moved around quite a bit when she was young, including a stint in Singapore. At around age seven, she, her parents, and older brother settled in Rexford, near Coburg Village.
After recently painting two murals for the town courthouse, as part of a project with the National Art Honor Society, Casey discovered that she really enjoyed painting on a large format. Prior to the project, the courthouse walls seemed bland and lifeless. The murals brought the space to life.
About a month ago, Casey reached out to Antoinette, our executive director, offering to share her talents with Coburg Village. It was decided that our Fitness Center would be the perfect spot for a mural. The mural which features bright hibiscus flowers and hummingbirds is Casey's original design. She started the project by sketching out various concepts at home. She wanted to create something bold and colorful, including local flowers and birds and decided on hibiscus and hummingbirds. In nature, the hummingbirds would all be just a little smaller than the flower. Casey added some visual interest painting the birds in various proportions.
Casey has been working on the mural for about two weeks, coming to Coburg Village evenings and Saturdays. She enjoys talking with the residents who stop by the Fitness Center while she is painting. Many times, she puts on her headphones and listens to a podcast. She becomes so immersed in the project that she loses track of time – coming in the light and leaving when it's dark.
Coburg Village is grateful to Casey for sharing her talents and her time to bring color to our community.