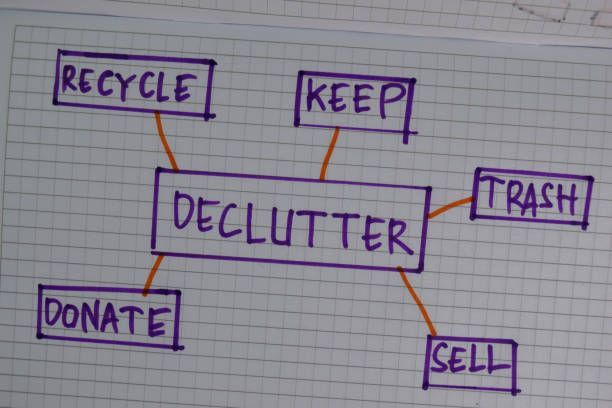 Do you have an upcoming organizing challenge or clutter removal project?
Getting organized and eliminating clutter may initially seem like an overwhelming task, but with the right strategy in place, it can be as easy as 1-2-3.
When starting an organizing, downsizing, or clutter removal project, you need to ask yourself some tough questions. Equally as important, you need to provide honest answers. First, assess your needs and usage for items. When working with clients, I ask them to set goals, and then begin sorting and identifying what they actually have. This makes it easier when you get to the next step of the decision making process. Below, is some guidance to help you break down the project and get started:
Step 1 – Assess your goals and determine what you have. Here are a few questions to ask yourself:
Why am I keeping this item? Does is have sentimental value or is it a family heirloom? Was the item expensive, but not being used? Do you keep thinking that someday you will use the item, but that day never actually arrives?  
What purpose does the item serve?
Does the item take up too much prime real estate (space)?
Step 2 - Where should the item go from here?
Grab a friend, relative, or a professional helper, to help you determine the best ways to move items to their next home. 
Sorting items is my favorite part because you get to see things you forgot you had. You may come to the conclusion that if you lived without it this long, maybe now is the right time to let it go. There are so many "aha" moments in the sorting stage!
Will you be giving the item away to family or friends, donating to a charity, having it appraised, selling with consignment, or simply relocating to a more justifiable place in your home?
Step 3 – Next comes the fun part … 
It's time to piece together the puzzle! 
Once you've determined the appropriate storage/labeling and location of your items, it's time to figure out how to use and enjoy your new space.
Finally, kick back celebrate your accomplishment!
Leah Scisci is a professional helper and owner of Mind the Errands, llc. She offers a variety of non-medical supportive services to help Coburg Village residents and other individuals live independently, including:
Organizing and de-cluttering
Completing light household tasks and special projects.
Laundry services
Donation drops
Cat sitting
Settling in after a move-in
Training on basic cell phone and tablet use
Help with paying bills and filing paperwork
Running errands
Providing occasional transportation (restrictions apply)