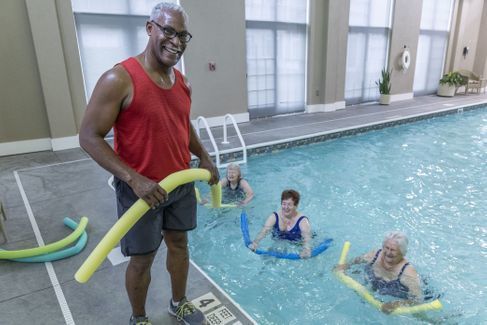 Happy New Year! It's the time of year that we start fresh and resolve to eat healthier, quit unhealthy habits, and even exercise more. Our focus turns to wellness and on ways to improve how we look and feel.
Wellness is defined by the National Institute of Wellness (NIW) as an active process through which people become aware of and make choices toward a more successful existence. A focus on wellness is important at any age and is linked to staying healthy both mentally and physically.
Dr. Bill Helter of the National Institute of Wellness breaks wellness down to six key dimensions: emotional, physical, intellectual, occupational, spiritual and social. When all these dimensions work well, so does the individual.
A study by the MacArthur Foundation found that 70 percent of physical aging and approximately 50 percent of mental aging is determined by lifestyle choices we make every day. Continued research into senior wellness activities confirms those findings and shows how the dimensions of wellness could be keys to a longer and a better quality of life.
A Yale study on aging and retirement found that seniors with a positive view of their lives lived an average of 7.5 years longer than those with negative views. Older adults who are physically active have lower mortality rates, higher levels of functional and cognitive health, and are less likely to have heart disease or type 2 diabetes.
So how does one achieve wellness? Making the move to an independent senior living community like Coburg Village is a great start!
At Coburg Village we offer a range of on-site amenities including a fitness center, heated saltwater pool and whirlpool spa as well as a calendar filled with fitness programs designed to keep you active and help reduce depression and stress.

At Coburg Village you can discover new hobbies or rekindle a previous passion. We offer a monthly calendar filled with planned social activities and group outings designed to support engagement, connection, and socialization. We also offer lifelong learning courses providing residents an opportunity to explore new skills and interests outside the classroom. These activities and programs help stimulate the mind and improve memory.
Eating well-balanced meals is important for living healthy and staying well. But for many seniors, maintaining good eating habits can be challenging. At Coburg Village, residents enjoy delicious and nutritious meals prepared by our very own chefs. For residents with specific dietary needs, we offer the services of our on-site dietitian.
According to numerous studies by senior services groups, making spiritual wellness part of our daily lives as we grow older can have profound and far-reaching benefits. If you know that you are connected to something bigger, something greater than yourself; if you don't feel like you have to have all the answers and that everything is on your shoulders; if you are reminded daily of your unique place in the universe, it can give you a sense of greater peace amid all of life's changes, especially as we get older? At Coburg Village spiritual care is an integral part of our services for our residents, regardless of their personal faith backgrounds. We want each person to be able to grow and benefit from spiritual wellness in their life.
Coburg Village offers residents the tools they need to live active and achieve wellness. We invite you to check out our community. Schedule a tour, call us at (518) 371-5000.