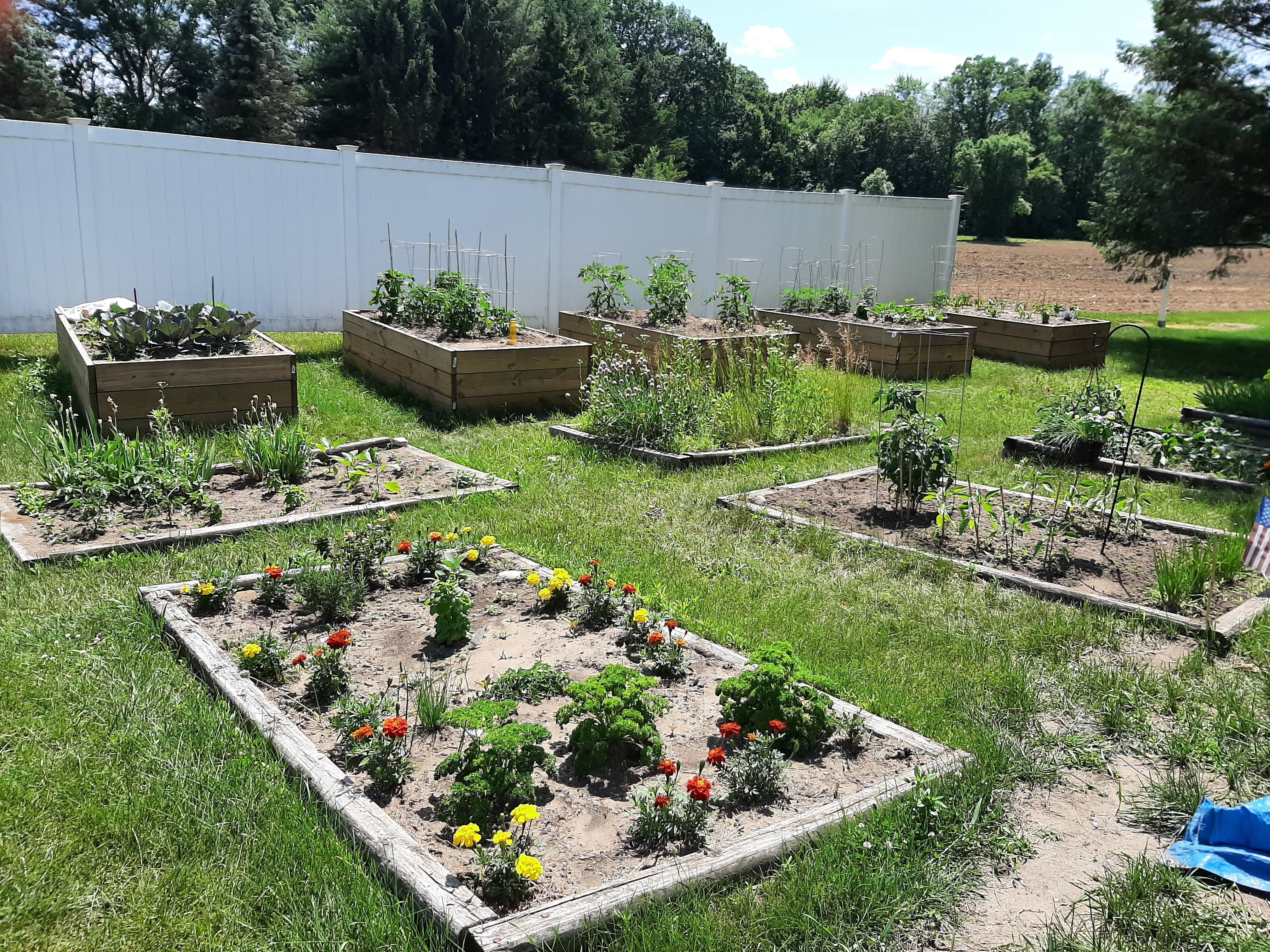 Coburg Village residents enjoy the many health benefits of gardening.
As most gardeners and numerous studies will attest, gardening can do wonders for your overall health and well-being. The health benefits from gardening can include reducing depression, loneliness, anxiety and stress. Working on your garden is an excellent way to get all around exercise and improve strength, endurance and flexibility. It can also reduce the risk of high blood pressure, heart disease, diabetes, obesity, and other medical conditions.
Stress reduction -Studies show that people who spend time cultivating plants experience less stress. Gardening provides a positive way to channel stress into an activity that offers comfort and the satisfaction of nurturing and helping something grow. It allows you to focus and put your mind to work on a task. A 2016 experiment conducted by NASA showed that gardening can keep astronauts sane and happy while in outer space. The study found that planting and nurturing seeds, even in just small pots provided for an uplifted mood and eased stress. Gardening has been used as a form of therapy for individuals who have experienced mental or physical trauma to help to put them in a better place for recovering.
Improves concentration and memory – Studies have shown a link between gardening and mental clarity by promoting problem solving, learning, and sensory awareness. Evidence also shows that it is linked to strengthening the brain and reducing the risk for Alzheimer's.
Builds self-esteem – It always feels good to accomplish new tasks. Once you have nurtured a tiny seed into a delicious vegetable or a beautiful flower, you will feel there is no limit to what else you are capable of accomplishing!
It's good for your heart – The physical activity involved with the physical labor, digging in the soil and pulling weeds, helps keep you active and improves cardiovascular health.
Improves your mood – According to research, including a 2015 study published in Immunotargets and Therapy, having dirt under your fingernails may be a sign of poor hygiene, but scientists say it could also be a mark of good health. Thanks to beneficial bacteria found in soil, gardening may improve your immune system, helping you get sick less and fight off infections easier.
Make new friends – Gardeners tend to be the nicest people. Sharing space in a community garden gives you the opportunity to meet people who share a common interest.
Improves your diet – Eating all those delicious homegrown fruits and veggies is not only delicious, but good for you.
Boosts vitamin D- Exposure to sunlight while gardening helps older adults achieve adequate amounts of vitamin D. (Don't forget the sunscreen!)
Moving to Coburg Village does not mean that gardeners have to give up their hobby. We offer a variety of ways for you to continue digging in the dirt and experience the joys of gardening.
Coburg Village offers nineteen 4' x 6' garden plots to residents on a first come, first served basis. Residents can sign up for their own gardening plot at the front desk following an announcement at the April Residents' Association meeting.
Residents plant both annual and perennial flowers outside of their apartment or cottage filling the community with vibrant colors that rival any artist's palette. You will also find bird feeders and other ornamental decorations that further enhance the natural beauty of Coburg Village.
If you are unable to maintain an outdoor garden plot, you may want to consider joining the Greenhouse Committee. Plant lovers are always welcome. Potting soil, tools, fertilizer and other gardening supplies are available. Our greenhouse is always warm and bright and blossoming with color and greenery.